SHIBAKI
Ethereum
Project Details
Pre-Sale Price

0.0 Ethereum

Public Sale Price

0.03 Ethereum

Collection Count

10000 items

Category

Pixel Art
Description
**A Historic Event in the NFT World: Shibaki x Fingerz Frog NFT Collaboration** Shibarashi Studio and Stars Run Studio, two major NFT studios, have joined forces to create a historic event in the realm of digital art and collectibles. The Shibaki x Fingerz Frog NFT Collaboration, a joint venture, is expected to revolutionise the NFT business and provide lovers with an unforgettable experience. **Get to Know the Studios:** **Shibarashi Design Studio:** Shibarashi Studio, comprised of four creative individuals who are passionate about digital art and blockchain technology, has made a huge effect on the NFT sector. Their creative approach to art creation has piqued the interest of art enthusiasts and collectors all around the world. The team members' distinct abilities in animation, design, and storytelling have resulted in the Shibaki, a beloved figure who has swiftly become a symbol of creativity and inspiration, was created. **Stars Run the Show:** Stars Run Studio has been in the vanguard of the NFT revolution thanks to its exceptional artists, clever software developers, bright writers, competent editors, and skilled marketing managers. They continuously generate exceptional art pieces that leave a lasting effect on their audience, thanks to a diversified team of professionals versed in numerous facets of the NFT industry. **The Collective Giveaway:** Shibarashi Studio and Stars Run Studio are conducting a unique prize for the community as part of their collaboration. Collectors must mint two Shibaki NFTs to participate. Those who are fortunate enough to mint two of these unique and intriguing NFTs will be awarded a prestigious place.on the special waitlist for the forthcoming Fingerz Frog OpenSea NFT drop. *Fingerz Frog: Fingerz Frog, created by Stars Run Studio, is a wonderful mascot who has captured the hearts of NFT fans with its charming look and intriguing story. The release of the Fingerz Frog OpenSea NFT promises to be a highly anticipated event, with exclusive artwork and limited-edition collectibles available. **Huge Free NFT Giveaway** The united endeavour will also include a big donation of 5,000 free Shibaki NFTs, an extraordinary act of charity. This move intends to democratise the NFT space and give back to the supportive community that has contributed to the success of both studios. After the free giveaway, the Shibaki NFTs will be available for purchase for a fair price of 0.03 ETH. Each of the next 5,000 editions will cost ETH. This pricing point maintains collectors' accessibility while keeping the value and uniqueness of each piece. **The Effect:** The Shibaki x Fingerz Frog NFT Collaboration is about to make NFT history. The combination of Shibarashi Studio's creative inventiveness and Stars Run Studio's diverse knowledge exemplifies the strength of collaboration in the NFT space. This cooperation is designed to raise the NFT experience to unprecedented heights by bringing together top-tier artists, technologists, writers, editors, and marketing managers. This event is significant in the NFT business since it brings together creators to push the frontiers of what is possible. Collectors are drawn to both studios because they share their art and personalities with the public.and fans eagerly anticipate the drop in order to secure their places on the exclusive waitlist and obtain these outstanding NFTs. Finally, the Shibaki x Fingerz Frog NFT Collaboration exemplifies the NFT world's unlimited ingenuity and invention. Participants who mint the two Shibaki NFTs not only receive a seat on the Fingerz Frog OpenSea NFT drop waitlist, but they also become a part of this important event in NFT history. The collaboration's free NFT offering highlights the studios' dedication to sharing their creativity with the community and cultivating an inclusive and flourishing NFT ecosystem.
Featured NFT Drops
Get ready for the latest NFT Drops and Upcoming NFT Drops!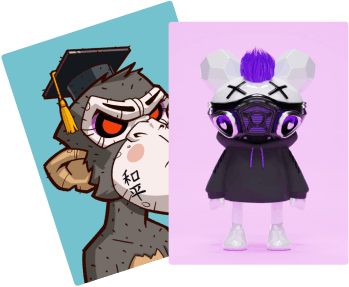 Your NFT Here?
Maximize your Exposure and Reach Thousands of Potential Investors to Your NFT Project!
Similar NFT Drops
Find similar NFT Drops with common themes, artists, or styles. Stay informed and expand your NFT collection with ease.